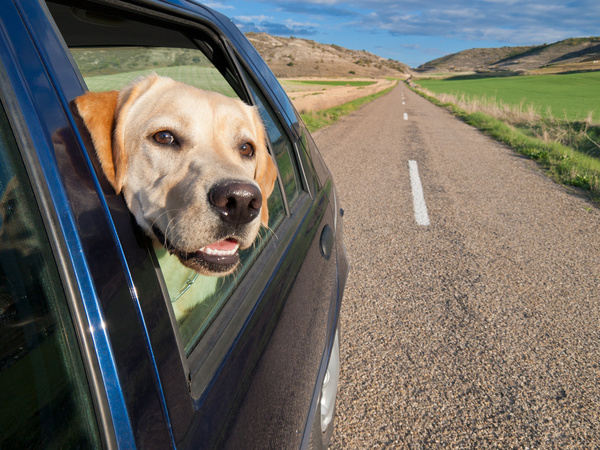 Planning a summer road trip with your best four-legged friend? Here are some safe traveling tips for you and Fido!
Whether you're headed out on the road for a weekend drive or a longer vacation, there are some car trips we simply wouldn't think of making without including the four-legged member of the family.
Just as you make plans for a safe and comfortable trip for your family and friends, it's a good idea to do the same for your pets to help your travels go smoothly.
Preparing Ahead of Time
Plan ahead of time so that if you and your pup somehow get separated during your travels, people have a way to reach you. If your dog does not have a microchip, use a collar with tags to provide relevant contact information such as your cell phone number. If you're going to multiple destinations, temporary tags can be used to provide information on where and how you can be reached at different points along the way.
For longer trips, consider packing a travel bag for Fido with travel papers (such as rabies vaccination records), food and bottled water, medications, a pet first-aid kit, waste scoop and plastic bags, grooming supplies, and one or two of his or her favorite toys.
While On the Road
For safe travels, many pet experts suggest using the combination of a harness and seat belt to securely fasten your dog during a car trip. While small dogs may prefer to curl up in someone's lap, don't allow it. A pet that is not secured creates an unsafe situation for the dog, the driver and for other passengers.A crate can also be used, but it's very important to make sure the crate is the appropriate size for your pet, and that it is well secured in your vehicle. A crate that is too small or too large could result in greater injury to your pet in the event of a car crash; and a crate that is not secured is a hazard to drivers and other passengers in the event of a crash or even a very quick stop.
Never leave your pet alone in a parked vehicle. On a 60 degree day, your car can still heat up to as much as 100 degrees inside. And, on a warmer day, even with the windows open, the temperature can go even higher. In colder weather, your car can become a freezer that can also hurt your pet.
Everybody knows how much dogs enjoy riding with their head out the window. But allowing them to do so puts them at risk of injuries to their eyes, nose, and ears. Keep them safely inside.
Taking breaks during long stretches of car travel is a good idea for everyone in the car. Make time every three or four hours to walk your dog, provide water, and allow everyone to get the benefits of some fresh air. If you have an older dog, consider a special dog ramp for your car that will make it easier for him or her to get in and out of the vehicle and reduce the possibility of injury.
A special thanks to our friends at The Hartford for their help with this post!