Do You Qualify for Affordable Health Care Financial Assistance?
If you need help paying for health care, you may qualify for federal assistance. Under the Affordable Care Act (ACA), also known as health care reform, the federal government will offer financial assistance to qualified individuals.
When will assistance become available, and how will it help?
Federal financial assistance will be available starting in October 2013, you will be able to apply for financial assistance for new 2014 ACA-compliant plans.
Features of federal assistance:
 Federal assistance can help with premiums and out-of-pocket expenses (deductibles, copayments, coinsurance) will be available only if you buy your new ACA-compliant coverage through your Health Insurance Marketplace, Covered California.
If you qualify, the federal government will pay the insurance carrier any financial assistance on your behalf for the coverage you choose only through Covered California.
Assistance will be on a sliding scale, based on (initially your 2012 tax returns) Modified Adjusted Gross Income and family size.
Are you eligible for assistance?  Use this chart to get an idea of whether you and your family may qualify: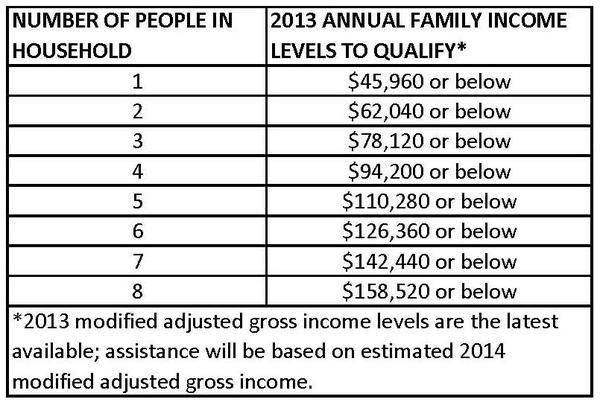 ACA Federal Assistance eligibility is based on annual income and family size.
What should you do next?
Partner Agency Insurance Services can help you through this and assist in determining whether you qualify.  If you do not, we can offer you affordable health care coverage for individuals, families, or Employer Group coverage for groups of any size.  Please feel free to contact us for assistance and a complimentary quote from various at (714) 482-9500.
You can go to CoveredCA.com after October 1, 2013, for a determination of your total financial assistance eligibility. It will also provide information about your premium and out-of-pocket expenses.
Please note that if you, or your dependents, have the option of receiving health coverage through your employer, you or your dependents may not be eligible for financial assistance.
What if you do not qualify for assistance?
You can still purchase an ACA-compliant plan through Partner Agency or directly with Covered California.  There is no additional charge to you for coverage or assistance through Partner Agency.  Either way, your plan will offer the same benefits and services as mandated by the new ACA laws.
Have questions?
We would be pleased to assist you at (714) 482-9500.