Pet Prescription Team wins $10,000 donation in Safeco Insurance® Make More Happen Contest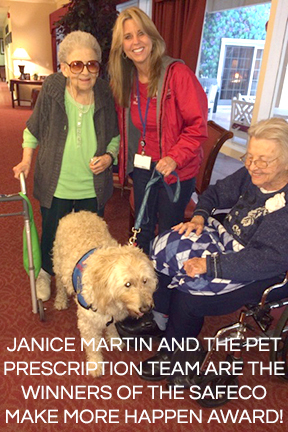 Thanks to all of your votes Partner Agency and the Pet Prescription Team won SafeCo's Make More Happen Award!
We couldn't have done it without your help!
Your votes helped to make Pet Prescription Team the top vote-getter in the Safeco Insurance® Make More Happen Contest, which means Pet Prescription Team will receive $10,000 to further its great non-profit work in the community.
The $10,000 check from Safeco is in addition to the $3,000 donation that Safeco is giving to Pet Prescription Team on behalf of Partner Agency Insurance. You see, Partner Agency Insurance was selected this spring for a Safeco Insurance Make More Happen Award because of their support of Pet Prescription Team.
We are extremely thankful for everyone who showed your support through voting and cheering for the Pet Prescription Team!
And we are especially grateful for Partner Agency Insurance's very own Janice Martin, who has supported the Pet Prescription Team through her volunteer efforts. It was because of Janice and Partner Agency Insurance, that The Pet Prescription Team was selected for a Safeco Insurance's Make More Happen Award.
Thanks again for making us a winner!
And there's more!
We will be presenting the check to the Pet Prescription Team this Saturday May 31, 2014 at their 5th Annual Car Show at The Park in La Habra Heights. Please join us from 9:00 – 2:00 to enjoy the car show and celebrate Pet Prescription Team's great work. And don't forget to stop by Partner Agency's booth to say hello!