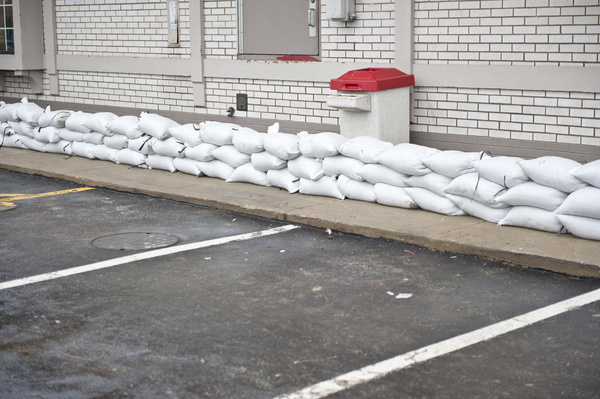 Sandbags can be used to create a barrier between your property and flood waters.
El Nino is predicted to bring flooding this year. Flooding is unpredictable by nature, but you can take steps to protect yourself and your property.
Sandbags are often the first defense against flood waters.
Sandbags are a simple but effective way to divert flood waters and reduce the damages they cause. Sandbags are not always a water-tight barrier, however using sandbags along with plastic tarps will allow you to create an effective barrier against flooding, and can even filter out the sediment found in the flood waters.
Sandbag FAQs
Most sandbags come empty and it takes two people to fill them, it is suggested that you fill them only 1/2 to 2/3 of their capacity.
Make sure you clear the area of debris before you place any sandbags, and place the sandbags before the flooding begins.
Placement of sandbags depends on many factors, so it is important to look into this matter further, but it is generally suggested to place sandbags parallel to the direction that the waters will flow, and to place them lengthwise.
If your bag is untied, it is suggested that you place them with the folded end in the uphill direction to avoid the sandbag losing its contents in the flooding waters
It typically takes 600 sandbags to create a barrier 100 feet in length and 1 foot in height.
Many cities have sandbags available to city residents, contact your local city council to find out more. But please note, sandbags will be quick to go once the rains start. If your local authorities do not provide sandbags, you may be able to purchase them from your local hardware store.
You can use sandbags to help protect your home, but there is no guarantee that flooding will not cause damage. The only way to protect your property from flood is to have a flood insurance policy. Call us at (714)482-9500 for a free flood insurance quote!
Further resources
Sandbags and how to use them properly for Flood Protection
US Army Corp of Engineers: Sandbagging Techniques
LA County Department of Public Works: Emergency Home Protection