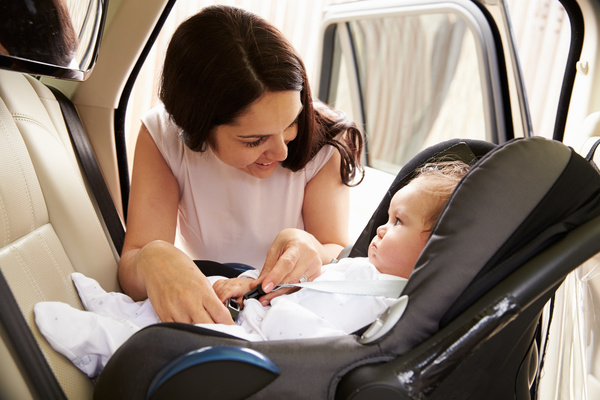 Do you have the right car seat for your child? With so many options out there, it's important to make sure you protect your most precious cargo.
"Infant-only", "convertible", "all-in-one"... many soon-to-be parents don't know where to begin when it comes to car seats. What makes it more difficult is that each choice has advantages and disadvantages.
Here are five things to keep in mind, from shopping to installation, to help you find the right seat for your precious cargo:
Know the pros and cons of each seat type. Children usually outgrow infant-only seats within the first year. However, they offer a snug fit and allow you to quickly snap the baby carrier in and out. Convertible seats and all-in-ones have a longer life, but they sometimes aren't as convenient. Both transform into forward-facing seats, and an all-in-one seat becomes a booster, as well.
Know when to use each type. The National Highway Traffic Safety Administration recommends using a rear-facing seat for as long as possible — through 12 months of age, at minimum. After kids reach the limits of rear-facing seats, often between ages 1-3, switch to forward-facing. When they outgrow those, usually between ages 4-7, it's time for a booster. Finally, when a seat belt fits properly without a booster, your child is done with special seats! (They should still ride in back, though.)
Don't accept a used car seat unless you know everything about it. It should be within its service life (look for the expiration in the manual or on the seat) and not have been involved in an accident that caused injuries or forced air bags to deploy. And, of course, it should not be included in any recalls.
Before you install, read the instructions. Seats should be secured in the back seat with anchors or a seat belt. When you're done, get a free inspection to check your handiwork, if possible. Don't know where to get an inspection? California Highway Patrol locations often provide inspections, or you can find additional local car seat inspection spots by typing in your zip code at http://www.seatcheck.org/.
Check the fit. Harness straps should be flat and placed through the slot either at or below your child's shoulders (rear-facing) or at or above the shoulders (forward-facing). When the harness and chest clip are secured, make sure no extra material can be pinched at the shoulder.
Do you have more questions? SaferCar is a great resource for how-to's and tips.
Knowing your child is secure in the back seat helps you focus on distraction-free driving in the front. Your car insurance also offers peace of mind when you're on the road. If it's been awhile since your last insurance check-up, give us a call today at (714)482-9500. We'll help ensure you have the right coverage!